Week in Review: Rotten Fish Stink Out the Mets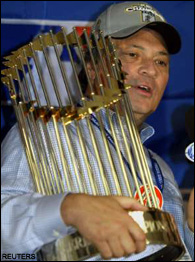 Yep.
This week's
Fish tale was more than just some typical, humiliating late season losses to the Marlins franchise:
The Marlins have spent about $396 million on player salaries from 2000 through 2010, with 873 victories and a World Series title to show. The Mets have spent about $1.212 billion on salaries in those seasons, with 878 victories and no championships.
In other words, the Mets have spent about $816 million more than the Marlins to win five more games and one fewer title. It is a stinging indictment of the Mets' efficiency and a glowing example of the shrewdness of the Marlins, who are so disciplined that they have a blanket club policy against no-trade clauses.
To recap:
$1.212 billion=878 wins, no World Series victories. (That's the Mets.)
$396 milion=873 victories, one World Series championship. (That's a team that employs fat men as cheerleaders.)
The Marlins' main expenditure.
I don't know much about MLB revenue sharing, but my next thought was chilling. I WONDER HOW MUCH OF THEIR REVENUE THE METS HAVE SHARED WITH THE FISH!!?? Can we get some numbers on this? I bet it would show that the Mets are actually paying the Fish to serve as the bane of their existence, and a "stinging indictment" to their entire management strategy.
Marlins' highest paid player provides same service at 2nd Mets get for $1,550,000 less. Mets win!
Also, the Fish know how and when to beat the Mets, so you have to add the devastation into the equation. The Mets, in so many ways cannot compete with a team that
doesn't care about winning
or attracting fans, and STILL ACCIDENTALLY MANAGED A TITLE!! That is how bad the Wilpons are--they can't beat someone who isn't even trying.
This season, the Marlins have bought mediocrity for $81 million less than the Mets!
And at least they suck in private, with no one at all to watch them, whereas the Mets manage to humiliate themselves in front of a large, if dwindling, fanbase.
***
At least the week's news wasn't all bad!
Rats
.
Stinkers
.
Crikey
!
Ho-boy
.
***
I have gotten to the bottom of how Jose hurt himself, originally. We all just keep paying for ESPN's sins:
Labels: fucking shocker, fucksake, horse f*ckers, Metastrophe V