Hall of Shame, Mets Got No Game, Plenty of Blame
The glory days are now long gone.
Are you one of the three or four people in the world unaware of the Omar Minaya regimes' utter and complete failure to develop a competitive baseball team, even with all the resources of a major media market? Or maybe you're a sober believer in consistency and think a revolving door of managers might temporarily sooth the fanbase but does nothing for a club's long-run success. Well perhaps you tuned into yesterday's matinee, which your favorite organization used to once again throw the club's past, fleeting successes into relief with the dire straits of its present and the muddleheadedness of its doomed future. After viewing the latest shenanigans, if you went to bed unconvinced that ownership needs to get what they can for anyone that makes it through waivers, experiment with the rest of the season and reconvene in the winter with new management team, well, then I'm a monkey's uncle.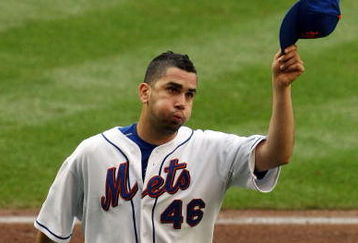 Oliver to Mets fans: YuR WeLcome!
Yesterday was a perfect Mets game, a real treat for the fans. As usual, the club could not handle the stress of having a 1986 celebration
and
a home game on the same day, and promptly shit the bedroom with their pitching, lack of offense, and horrendous, careless defense. So not only did the Metz attempt to ruin this blog's FIVE YEAR ANNIVERSARY, but they also took another steamy dump all over what little tradition Mets fans can lay claim to.
A run for their money?
Normally nice Niese made it four innings or so before abdicating his responsibilities for the day, starters Frenchy and Cora ("FranCora") turned in their normal roster-spot-occupying performances at one point or another, Wright and Reyes were MIA, the LOLPen was unfathomably dreadful. And of course the ritual Ollie appearance (at $1 million a pop) after the game was well out of hand.
The last meaningful thing Omar and Jeffey did?
Complaining about Jerry's managing is like complaining about the catering during a Chernobyl picnic. So I will only say that rehashing the 1986 Mets' success is getting old, really old. Some have rightfully defended Omar's pat stand at yesterday's trade deadline, arguing that he really can't be giving up future farmhands for the future of a team that is in such a present predicament (read: season effectively over). But he's in this predicament partially because he has no plan to speak of. Why the Wilpons haven't had the locks changed yet is one of baseball's great mysteries.
Like this picture, there is no way to fix the mess Omar has made.
Frank Cashen, who along with Doc, Straw and Davey made an diverting appearance on Sunday's SNY telecast, was
recently asked
to give Omar some advice:
Cashen was asked whether he had any advice for Minaya.
"Other than hanging in there? With a particular emphasis on hanging," Cashen said, laughing.