Br*ve Old World in the NL East? Back to the 90s...
Jerry's Kidz Renaissance Means Mets Suddenly Looking Up at the Br*ves in the Standings
Are the good ole' days back?
Wherein the author connects current goings-on to the era when the Atlanta club won 13 straight NL East titles.
The Mets organization came into the 2010 season in a blaze of incompetence and laugh-worthy planning. Oliver Perez would be a starter. Mike Jacobs would replace Daniel Murphy at first. You get the idea. No Met fan of sound mind could look at the NL East and think the Mets in their current configuration had a prayer of competing. I admit having enjoyed the freedom one feels when writing off one's team. Yet here the Mets are in mid-June in second place, and, if that wasn't remarkable enough, the Mets are looking up, not at the hated Phillies, but instead, at the accursed Atlanta Br*ves. So if you feel asleep in 1999 and woke up today (here's looking at you Bobby Cox) the standings wouldn't surprise you at all (though depending on how attentive you are, you might wonder where the Expos went).
So do not adjust your monitor, this is happening: Turner's Hicks served notice when they swept the Phils in early June. When not checking Raul Ibanez' urine for magic properties, l
etting their infants get plastered
at games, and
projectile vomiting
on fellow fans, Phils phans are probably getting worried right about trailing the Mets now, since they are obsessed with everything the Mets do. The Br*ves could be the real deal and
could
be destined to add to their impressive history of early round playoff exits, but we'll have to wait and see.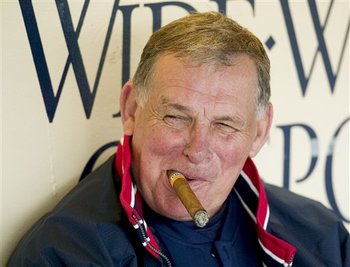 How has this insufferable redneck whined and bitched his club into renewed relevance?
But enough about those fanless, sister-lovin', playoff chokers. Let's launch some preliminary hypotheses that explain the recent success of the NY Metropolitans.
Things that seem to have needed to happen to get to the point where watching this club is tolerable:
1.
Oliver Perez is finally nursing his annual fake injury.
Perhaps sending this bozo to the land of make believe restored some integrity to the front office, at least in the eyes of the players who had grown increasingly restless with the Minaya regime's insistence that Perez is a viable member of the team.
2.
Ike!
If you're the kind of person that likes to celebrate clubhouse chemistry, why not attribute Met success to the Hebrew Hammer? He's solidified the infield, is unafraid of the dugout railing, likes to launch moonshots occasionally, and is way cooler than David Wright. What more could you ask for?
Phillies fans will be getting worried about the Br*ves too, right after a nap.
3.
Project GetMatthewsJettisoned is a success.
Gary Mediocre Joker was finally been dishonorably discharged. This probably had little to no bearing on the team performance, since there is no evidence that GMJ ever even bruised a baseball, but it had to be embarrassing being seen in the same uniform as this 'roid baby. So we can say this might have helped the Mets spirits.
4.
Knuckeballs!
Dickey has single-handedly (pun intended of course, all puns are intended when discussing R.A.) revived the fortunes of tabloid and blogger headline writers. He has also managed to keep the Mets in most every game he has pitched. He also inspired me to believe that, should Pelf and Niese fail and Johan continue to slide, the Mets ought to stock their rotation with 2 or 3 more knuckleballers. Who's with me?
Because who wants to see a picture of Jr.?
5.
Niese pitching, pretty boy!!
As long as he doesn't go flying off the mound with his hammies rolled up like blinds, he's a credible back end prospect, and a joy to watch.
With the removal of whiners like John Maine and lost causes like GMJ and OP, and the emergence of likable folks such as Ike and Rob Al Dickey (who thankfully is a literate soul
who appreciates "human language"
), mystery men such as Carter, Barajas and Blanco, and of course nice guy and playoff beard grower Jeff Frenchie, is it possible this team could make a Wild Card run and we'll be saying that
the Good Guys Won
?
Labels: br*ve new world, the champagne it tastes so sweet, the internets most unloved mets weblog, there goes the Sheaberhood