I'm Nat Impressed with the Mets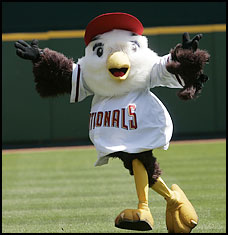 "Don't ask me why your team is so bad, I've got problems of my own!"
The Mets got what they wanted from John Maine: adequacy. After the Mets loaded the bases in the first inning, Jose Reyes, David Wright and Ike Davis all struck out. That was probably the turning point for the Mets chances of winning right there. So let it not be said that Mets 4-6 hitters only fail in late inning, clutch situations. It's a regular
murderer's row
jaywalker's row
let-their-parking-meters-lapse row that Omar has assembled.
It seems that the Mets ice cold stars are more interested in scoring points with the umpires than staying in the ballgames to help their team. Reyes, never celebrated for his maturity, delivered a pointless hissy fit over an obvious strike and got tossed tonight by Laz(y) Diaz, an ump who I have to say, has the laziest tossing motion I've seen (word play!)! This was a night after Reyes' pal "Swingsy" Wright cursed his way out of the park. Wright has a bad influence on Jose, who wudda thunk it?
Recalling Chris Carter from the minors probably won't help much.
***
Why is David Wright suddenly a K machine? According to MLB, "Wright fanned a career-high 140 times in 144 games last season and is on pace to strike out 190 times in the same number of games this season." He's also on a pace to walk 125 times when his previous high was 94 freebies. Was it that the beaning knocked something loose in his head? Could it be that he is now too buff to swing the bat? If this keeps up, we may come to discover there is something troubling about the abrupt changes in Wright's game over the past season and the beginning of this season.
**
The Mets "braintrust" will
"reflect" upon Oliver Perez's status
with the club. I guess that's good news.
**
Wake up, there's a
lady in the booth, Keith!!