Thanks For Playing: Some Lovely Parting Gifts for Omar Minaya
The climate out there in Mets land is pretty severe.
Kool Aid
is no longer being served. Currently, Met fans (and anyone else associated with this team) can probably be located somewhere on a scale that runs from embarrassment to outrage to resignation to apathy. This is not to say that our heroes aren't spreading joy. One star throws up. Another ejaculates on women when he hits the links. Another shares what
might
in some quarters be termed Latin passion with his family and other bystanders. Another star, well, he just sees stars.
This weekend, I read
Tyler Kepner's professional, sympathetic and entirely misconceived article in the NY Times
, which he concludes on this note of sadness: Omar "had nothing to do with so much of the mess at Citi Field, and he would probably leave the team in much better shape than most people realize." After this, I wondered if I can't be a little more gracious in my treatment of Omar. I mean, I can't add much more to
Taco Ted Berg's interpretation
; he'll shed no tears for a GM that has excelled at failure on all levels, and neither shall I. Or maybe I can add something. See, the way I figure, the Met players are probably too lethargic (or busy in court) to come up with some really nice gift ideas for Omar's pending going away party. Here then, are some suggestions for some nice parting gifts for Omar, other than of course, all that contract money for nothing (why in the hell are GM contracts guaranteed?).
Artist's interpretation: actual shards cannot be gazed directly upon by humans.
Shards of the Beard of R.A. Dickey
The use of the word shards is intentional. For this man's beard cannot be reduced to clippings or mere follicles. As far as I know, Omar is as responsible for finding this diamond in the rough and putting him on the diamond as anyone else, and no matter what his future holds, Dickey will always live on in Mets lore as one of the sole bright spots of 2010, perhaps even of the decade.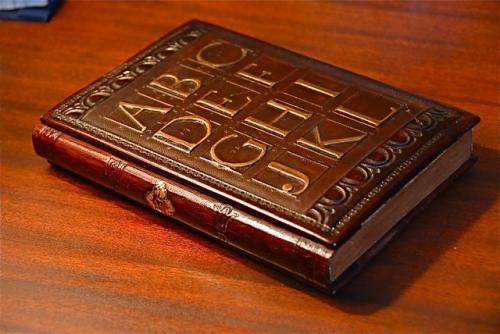 Perhaps one from Oliver's own collection?
Fine Leather Copy of $cott Bora$' book on Oliver Perez
Yes,
we've gone over this in this space before
, but what better token of our esteem could we imagine than the $36 million book? The binder, as you'll remember, compared Doh'P to Randy Johnson and Sandy Koufax, insulting not only the integrity of any GM that gazed upon it (reports suggest there was only one GM that showed interest), but also baseball as a pastime and America as a country. This keepsake can remind Omar that sometimes moves that
look
really really dumb turn out to be just really really stupid.
Somebody's daughter, not included.
A really big novelty ticket to the All Star game at Citi Field in 2013
The Mets inexplicably
continue to skimp on the draft
, one of the few no-brainer spots where a big market club is at a competitive advantage. This cheapness (not entirely Omar's fault) has presumably allowed them to be more generous to the Alex Coras, Jeff Francoeurs, Luis Castillos etc. of the world. Many have speculated the Mets generally stick to the MLB's draft guidelines for fear of getting on Bud Selig's bad side (ed note: does he have a good side?). But why be relentlessly negative about it? As a token of his gratitude we should make sure Omar has a seat at the 2013 Citi Field All-Star game (the Mets have not hosted an all star game since 1964). Omar will need tickets to attend, because he won't be able to get into Citi Field without them (how he gets out remains to be seen). And if the ticket is really big, it will be easier for the mob to find him. It's the least we could do, and that's what he deserves.
Fred Wilpon Motivational Poster
The Wilpon family knows that nothing is more morale boosting than a
endorsement from your boss
, or even a contract extension, during times when your job performance calls for your immediate dismissal. So imagine how nice it will be for Omar to have a reminder of how, in the MLB, there is always someone who will hire you, no matter what you do.
Signed Adam Rubin Job Application
Omar is probably too shy to get his hands on a keepsake of what must be his proudest moment as a Met, his deft handling of the
Tony Bernazard firing
. No need to investigate or LOBBY Omar, we'll get one for you. Unfortunately, there is no way to package the opportunity to kiss Willie Randolph's &*#?! ass.
Picture of Met aces, courtesy of alternate universe.
Basket of mangoes from Pedro Martinez' tree.
Many still believe to this day that signing Pedro made many free agents suddenly consider signing with the Mets (it's probably closer to the truth to say that many free agents realized they could get whatever they wanted from Omar even if their careers were effectively over). Problem was, the Sawx were right and it was only a matter of time before Pedro's arm fell off. Now Petey has all the money in the world, so much so that he could comfortably afford to come back for the Phillies and continue to criticize the Mets years later. How bout a fruit basket Pedro?
Labels: DohMar, Metastrophe V