As Roidger Goes Down, Don't Forget Pettitte!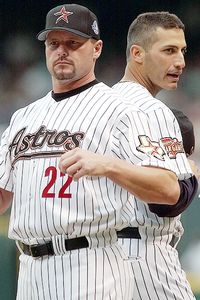 As contemptible as Rodger Clemens is, as much as the fact that everyone now knows he was a 'roided out liar--
even Houstonians
-- is satisfying, and as much as the Clemens-Piazza bat throwing incident
can now be understood to have been exactly what it looked like
, there is one part of this sad tale that apparently needs re-emphasis. Let me put it delicately:
Despite what the media continues to feed us,
Andy Pettitte is a fucking liar and a cheat
who threw his own family members under the bus when he got caught using PEDs and ONLY in comparison to Clemens could any reasonable person persuade themselves Andy Pettitte isn't a piece of Texas cow shit. Andy Pettitte and his media propagandists are bad for America.
Let me explain.
Maybe I should see
this
as a nostalgic nod to an imagined by-gone era when media protected star athletes privacy and reputations, instead of going through their trash and checking their hotel records. But
George Vecsey ought to be ashamed of himself
as he tries to tell us all those extra "Ts" in Pettitte stand for truth, tremendous, and terrific. This pathetic attempt to whitewash history and obscure the memory of Pettite's true colors showing through strikes me as near absurd. Here are some excerpts:
Pettitte proved his independence early in 2008 when he recalled Clemens saying he had been injected with human growth hormone. The testimony from the humble Pettitte was a key discrepancy that led to the indictment of Clemens on Thursday.
What
journalistic purpose
, I ask, does characterizing a hypocritical and dishonest ballplayer caught in his own lie as "humble," without malice, and truth-telling? I ask seriously. I have no idea. More quotations from the article:
A witnessing Christian, Pettitte is liked and respected in his clubhouse. He said he dabbled in bodybuilding drugs to help himself recuperate from injury; he admitted it to investigators, but he would not lie to protect his old training buddy.
Without a vindictive bone in his body, Pettitte has helped indict his friend, now apparently his former friend...Without malice, by just telling the truth, Little Andy has helped indict Big Rog.
He might not lie to protect his friends, but he would lie, however, to protect himself. In fact he did. That is, until the feds got involved. What Vecsey and other old guard media are telling America's children with their dying breaths is that it is OK to lie, but you have to tell the truth when vulnerable to possible federal charges. Combined with the normalization of PEDs that is sure to follow the wave of public amnesia we will see after Clemen's and Bonds' tearful publicity-confessions, we have a perfect shit storm.
Here are some reminders from earlier stories from
the Daily News
. If you can see past the rote Pettitte ass-kissing, you can read below how when he knew he was about to get implicated in criminal drug activity instead of taking the blame for his own cheating or protecting his family--two things I think could be called honorable-- the saintly Andy immediately implicated his own, seriously ill father.
Family matters deeply to Pettitte. That's why the most painful passages in his Feb. 4 deposition before congressional attorneys come when he describes his beloved father, Tom Pettitte, whose serious health problems have included open-heart surgery.
Already aware the Daily News was close to reporting his ailing father's involvement with a criminal drug transfer in 2004, the Yankee pitcher revealed to staff attorneys of the House Committee on Oversight and Government Reform how the elder Pettitte procured human growth hormone from a trainer at a gym and then shared it with his son.
The committee published the deposition Wednesday upon concluding its madcap inquiry into Roger Clemens' denunciation of the Mitchell Report. In a remarkable act of candor, Pettitte insisted on making his story public by putting it on the record:
Q: Do you have any idea where your father obtained the HGH?
A: Yeah, I do now. Yes.
Q: Where is that?
A: The gym that he works out in. A guy that's the trainer there.
Labels: character assasination, PEDtitte