Subway Sign Gimme Game Makes Johan a Winner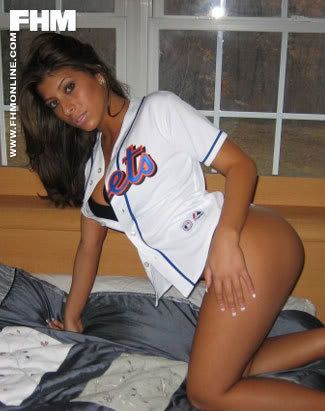 What exactly are they serving in the umpires' review lounge at Citi? Whatever it is, the Mets seem to be winning all the calls no matter how dubious. The umps must be getting donuts and massages in there, but at least it explains why it takes so damn long for them to return to the field. The Mets have come out on top so far, but it won't be long before the calls start going the other way. The long delays and reliance on bad inconclusive network camera angles are not indicative of a long term solution.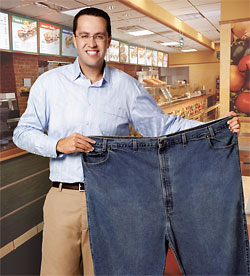 Did this guy design Citifield?
This game finally gave me something to get angry about. It dawned upon me:
CitiField is dumb
. The signs (and other stupid design flaws masquerading as "quirks") make it difficult or impossible for the umpires to judge home runs. How stupid is that? The SNY broadcasters have an obstructed view seat. How foolish can you get?? The bull pen looks like a concentration camp. The few championship banners they have are hung somewhere in the bowels of the park. Some of these things can be changed I guess, but you have to wonder over the numb nuts that purposefully designed this. I think Mets fans should call upon Jared and Subway to demand the contrast of their advertisement be changed to something conducive to baseball.
Adam Dunn, pictured above, can't believe his eyes when he gets a meatball from Johan and sends it over the bridge.
After Adam Dunn crushed Johan's pitch into the freakin bridge, I wasn't the only one who spent the rest of the game literally cowering in fear of Dunn's next at-bat with runners on base. Though he was retired successfully by Pedreadful late in the game, I scratched my hair out wondering why this guy wasn't worth Omar's time this winter. Meanwhile, it seems only Gary Sheffield among Mets can hit non-review home runs anymore.
***
This bad omen has started to turn out in the club's favor. The positional starters on this club certainly seem cursed, and are logging Alou-ian time on the DL. But it won't be long before fans start noticing that these guys, the replaceMets, play a much more entertaining brand of baseball than the $140 million
Met Zeppelin
Omar put together on purpose. Small ball? You got it. Dramatic (hits that are called) homeruns? Oh yeah. Are they gonna bounce some playable balls off their heads occasionally? Sure. But Omir, Daniel, Angel, Fernandos, Ramon and HEAD, with a little help from their friends David, Luis and Gary, have got my attention. They may not run out pop ups either, but I never get the sense that these new guys are bored. Why the hell not?
Labels: MetZeppelin