Off-Day Blather: 1.000 Tuesday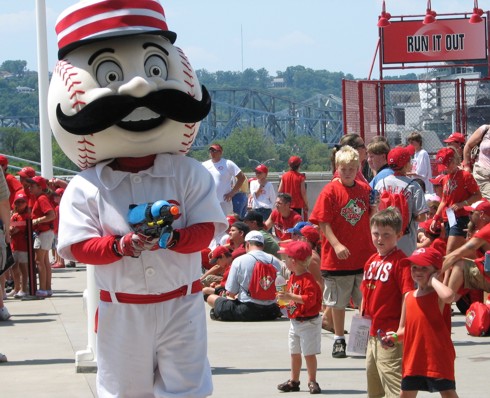 Mr Redlegs, shown here holding up a Cincinnati area day camp.
Luckily for the Mets, the Reds weren't armed or dangerous yesterday, and we squeaked through with the feel-good win so today isn't miserable. The Reds looked terrible in the field. For such a nail-biter of a game, I was a little bored. Maybe its the lack of that Aaron-Heilman-Anger-Adrenaline surge. I'll get used to it.
The Mets left 12 stranded yesterday--they just don't have pictures of that many ducks on a pond on The Google, so I had to make do. Sure, accuse me of negativity on a day where almost everything else went Wright, but you didn't have to stay up all night coming up with a new metric--
RARISP
(Runner After Runner in Scoring Position)--to describe the Mets continuing offensive futility. And while there will be no Razor Shines jokes today, I can't help but wonder if David Wright's eyebrows are starting to impede his baserunning. What other explanation is there?
At this rate, the Reds may need to suit this guy up for their outfield.
Far be it from me to take the pressure off of Wright, especially after his performance on the base paths yesterday, but Gary Sheffield came to the Mets because
he owns a house in New York
. Also, he didn't want to have to sit on the Philadelphia bench near Brett Myers, that cancer.
***
Thanks to Cver, I have
something to rage about today
. I hope when America's complacent baseball fans finally topple the
Access of Evil
--the Fux Network, the MLB, and the Florida Marlin's broadcast team-- I will at least be offered a spot in the new regime for all my work over the years,
here
here
here
here
. Fux continues to hoard the baseball games they don't broadcast, and ruin the ones they do (Joe Buck you, or Fuck you). The tragedy is that
Empty Base Syndrome
is curable. But Bud Selig hears your complaints about the preposterous blackout policy and he farts at you.
While the recession lingers, we need to organize a National Past-time Preservation social movement and present our demands to President Obama (who for some reason, routinely gets involved in these sorts of things). Demands should include:
*That we each receive a rebate for every game we miss because of the MLB's bad deal with Fux. Since we paid to see this game already and all by purchasing MLB.tv or Extra Innings, etc.
*That Steve Phillips, added to ESPNs to make Joe Morgan sound sage, be removed immediately from all baseball related activities.
*Immediate and complete over haul of MLB's outrageous blackout rules.
*Four words: Joe Buck Public Flogging.
***
What does it say when
Met Life chooses to enter a sponsorship deal with the Yankee
s instead? I wonder if the Mets can lure Yankee Candle in retribution? All I know, hopefully
this company
won't be getting their money's worth as much as they have in recent years. (H/T
CSTB
).
***
Apparently, the Reds just send their mascot out into the community to weird people out, a role that used to be performed by
Marge Schott
.
***
Omar's Elders:
A Weekly Tracker (a new feature)
How did the Mets' "impact Geezers" do yesterday? Not so bad, not so bad. Let's keep track of how they spent their days.
Carlos Delgado
: 2 for 4 with an impressive stretch into foul territory to complete pretty double play.
Luis Castillo
: 1 for 3 with double and walk, no crucial game blowing errors. Also, no boobird serenades, at least that could be heard from Ohio.
Gary Sheffield
: Soup was cold. Developed some concerns about being lockered near so many Latins, but will hold them until next team meeting. Mets' check seems to have cleared.
Livan Hernandez
: Game time put crimp in plan to visit Cincinnati's best early bird special buffet. Spent most of morning looking for eyeglasses, so didn't finish today's "Jumble."
Freddy Garcia
: Was just going to have one donut, but well there's always tomorrow. That Marmaduke gets into some trouble doesn't he?
Billy Wagner
: at wife's nagging, went to Walmart for new Confederate flag to replace threadbare one flying over the family horseshoe pit. It was "about time" hissed the Missus through her two front teeth.
Labels: Bite Me Bud, omar's elders