Mets Balk at Opening Night Win, Fulfill Only Heath Bell Fantasy that Doesn't Involve Cupcakes
Heath Bell, left, discusses game strategy with Duaner Sanchez.
In another world, I would have titled this post "Ben Johnson, Jon Adkins Contribute to Fine Win for Mets Over Pads on Citi Opening Day."
The 2006 Mets were a great team. A fun team. Most of them have moved on, but they occasionally return
with vengeance
on their mind. Last night, the Mets of 2009 got their asses handed to them by the Mets of 2006. If you're keeping score, that's Pedreadful Feliciano, Duaner Sanchez and Heath Bell. I was only slightly surprised when
Bartolome Fortunato
didn't come running out of the San Diego Padres bullpen to relieve the immortal Walter Silva (1 for 2 at the plate).
It's hard to imagine a more ignominious ballpark opening. It was an inauguration like the country hasn't seen since that of George W. Bush, Millard Fillmore or Franklin Pierce depending on your tastes. It couldn't have been worse if
Mike Piazza
received the ceremonial first pitch from tipsy Tom Seaver shirtless, with backne in full display. It was that bad.
First, Citi bank goes belly up, and takes a huge chunk of federal handout money after pledging 20 mil a year to defile the new Shea by pasting their disgraced name all over it. This is old news, something most will scratch their heads over and forget, but
I still think its an embarrassment
to the Mets, Jackie Robinson, Mookie Wilson, and the Wilpon family.
Citigroup, which now does business as Citi, has been the recipient of billions of dollars in taxpayer-funded bailout money over the past year, causing many to question the prudence of $400 million going toward branding Citi Field, especially when Citigroup cut nearly 75,000 jobs in 2008, capped by 50,000 announced in November.
Rep. Dennis J. Kucinich, D-Ohio, has been an outspoken critic of the deal. He has called attention to the issue of corporate spending discretion, or lack thereof, particularly when jobs are at risk.
"At the same time they're defending this $400 million stadium-naming deal, they lay off 50,000 people. Now, how many people could you employ for $400 million?"
The Wilpons want to be seen as good guys, for example the bullshit about being a "family-oriented" the spewed back when they signed Gl*vine (shortly thereafter having
two
catchers on the roster with sexually violent criminal records), or the lengths they've gone to celebrate Jackie Robinson, who deserves celebration but was never a Met. Instead they just come off as fools, and greedy fools at that. Tom Gl*vine absolutely sucked. A-Rod was denigrated for his attitude, Lastings Milledge was given away for free becuase of his, and Manny Ramirez, the one player who really could have changed the complexion of this sad sack, and lets face it, desparate team wasn't even made an offer, no doubt in part because of his attitude problem. Then they go and sign Gary Fucking Sheffield! Unwilling to give steady, useful Derek Lowe $3 million more, they end up with $36 million Oliver Fucking Perez. Then after sneakily starting the ticket price gouging last year so it would look better this year when they extort their fans for more, they give us a park that has ridiculously high outfield walls that prevent the very homerun grabs (or failed grabs) that make up many Shea memories, and that
somehow has obstructed views
. The fucking team hasn't made the playoffs since 2006. That the Wilpons have no shame is one thing. That they have no idea what they're doing with their money is an entirely different thing.
Then, picking right back up where they left off last year, the Mets promptly embarrassed themselves right out of the new park. So much for a fresh start, as the Mets brought along the poor defense, mediocre pitching, and lack of timely hitting the 2008 Mets were known for. Other than ex-Mets and current Mets, they got beat by a starting pitcher who last played in the Mexican league.
For opening night, the Mets didn't even start
the best available pitcher on the field
. Instead, Mike Pelfrey stumbled all over the mound, literally and figuratively, good for a run an inning for five innings. He promptly wrote himself into the record books by giving up a "first" in nearly every offensive category. Apparently, even the neighborhood cats didn't want to stay and watch.
Fluffy after the game: I paid $650 at Citi to watch that crap team? I'll just stay at home next time.
Jose Reyes has been unable to capture his old form. He daringly slid right by the bag in an attempt to stretch a single and treat the fans to some excitement. A nice try. Like the rest of the offense, he's misfiring or backfiring or something.
Ryan Church contributed tonight's "catch of the day." He knows he'll be fighting for playing time, but perhaps his mind was eased watching Shef ground meekly into what promises to be only the first of a billion double-play balls (Shef beat it out without the aid of his Segway).
Wondering how 50 yr old Gary Sheffield is going to cover right field on Wednesday?
Not to be outdone, Pedreadful Feliciano, pitching in his 9th game out of 7, came in and gave the Pads a
n virtual balk off
win with two outs, showing that he was no match for that internet joke that's getting old, Scrappy Gamer David Eckstein. The Padres didn't even have to earn it, cause the Mets rolled over and spoiled the TARP field opening day memory.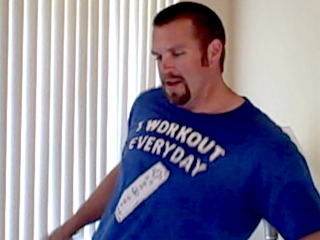 Pads closer Heath Bell, who hates NY and the Mets like a fat kid likes cake, actually mowed down the NY Mayor at one point when he threw an angry fastball right through the backstop screen. On this night, as the kids say today, Heath Bell=
EPIC FAIL for Omar
. For such a crappy also-ran team, our Mets sure inspire a lot of anger among their opponents. This is one reason I would have been in favor of bringing back Bobby V, to deflect some of the hate.
As it is, it's already time for Jerry Manuel to go
back to the drawing board
. But I don't see him having any more luck than the last guy with this team: star hitters that never click (after 2006, have you seen Wright, Reyes, Beltran and Delgado on base in the same inning?) + automatic outs at the bottom of the order = No Fun for Mets Fans. The team, barely changed from last year, still lacks what I can only call offensive chemistry. The hitters don't gel. You explain it.
Labels: lets rant about the mets brass