Metastrophe 2009 Begins! Ollies Follies, Carlos Bel-trots, Jerry Plays Fossum, Razor Dims, Murph Hits the Turf
On the plus side, this team does allow me to economize on images.
Because there are no words... Let's use pictures and go through
some
of the crimes against baseball committed by our boys last night. If you missed it, be happy. Otherwise, at least we got the season's worst game out of the way, right?
Crime 1. Beltran's BelTrot
I haven't utterd my catchphrase, "Holyfunkingwhoopdiewow!", in quite some time. But Carlos baby,
the games played in St.Louis are still televised to the outside world
. Wallace Matthews is probably on your front lawn right now, you think your wife appreciates that? How are we going to defend you from those who still hate you from the last terrible awful no good thing that happened in St Louis or those who say you play with indifference after watching you trot home when the situation called for some serious hitting of the dirt?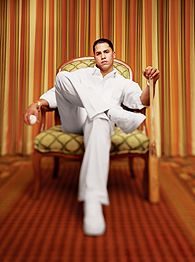 "I like to keep my clothes clean, and that includes my jersey."
"Hey pretty boy, try sliding!"
Crime 2: Razor Shits
After a few weeks, I am increasingly questioning Razor's loyalty.
What Razor did to Murphy in the 4th inning is inexcusable. He was out by a country mile. That run would've been important had you not hung it out to dry. He almost hurt himself too.
Crime 3: Jerry inserts ice cold Cassey Fossum
Jerry Plays Fossum!
I know your head hurts, so let me explain. This is a possum. Playing possum means playing dead, or pretending you are dead. Yanking sucky Perez in the 5th is one thing--I might have done it when he gave up a hit to the fucking pitcher. But sticking new call up Casey Fossum in so he can walk the game tied is "Playing Fossum." Ollie could have done that just as well. The result is Mets fans have the expression above, and Fossum's confidence is shot. Add the clusterfuck that is DFAing a fan favorite journeyman who could have handled walking the tying run in just as easy, to replace him with Fossum just 'cause you never signed a decent lefty for the pen this winter, and you have...METS FRONT OFFICE MAGIC!
Also, I'm not sure if Jerry knows about open bases and Albert Pujols.
Crime 4: Front office gives Oliver Perez new contract
I still can't fucking believe Omar went after this guy. Oh, he had choices. He made the wrong one. This is probably really crime 1, but its not that entertaining any more. $36 million for a guy who can't make it out of the 5th inning on his best days without giving it up.
Crime 5: Murphy is not so great at fielding
These are just some of the moves Daniel Murphy has tried in the Citi outfield so far.
Actually, even though it pretty much lost the game for the Mets, this doesn't rate as a heinous crime. Everybody falls down sometimes. What is worse is that Murphy still doesn't know where to throw the ball when he does catch it, and has a poor arm apparently. This game isn't going in his scrapbook by any means. Murphy was picked off first by Molina in the first inning with David Wright at the plate, and he was also thrown out at home in the fourth inning. If the Mets had any leadership, I would guess that most of Murphy's salary is going to pay clubhouse fines at this point.
Other minor issues:
*First base ump sucks big ones, mistakenly calling some Cardinal or other safe when Delgado's foot was clearly on the bag. Also I think Murphy's hand touched the bag before he got tagged in the face when the smirking fuck Yadier Molina "picked him off" first.
*Putz gave it up after Murphy's error, a bit discouraging.
*Mets squandering what little good play Luis Castillo will provide them this season.
This team is not good because of its tendency towards
cascading, systemic failures
. The offense scores 4 runs off of Todd Fucking Wellemeyer, and coaches, management, defense, and offense all collaborate to tear defeat from the jaws of victory. It'd be tragic if we didn't see it all the time from these guys, but now its barely watchable.
Labels: Holyfunkinwoopdiewow, Metastrophe III