The Return of the MetFan (In)sanity Scale
It's time, yes it is. Please report to the right side bar, and note that the scale ascends in degree as it goes down. You'll recognize "going down" as similar to the direction the Mets are headed.
***
Since the Mets decided to recycle their collapse from 2007, I have decided to follow suit and recycle pictures, features and content too. Phuck this.
Familiarize yourself with these images. These are the guys that are gonna keep us from the playoffs!?
U KNow Who
!!
As your dreams are dashed by LMilz and the Bitter Gnats, remember, "
Omar traded the Village for a couple of random townspeople."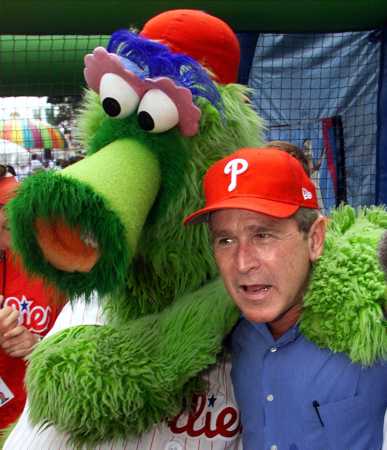 The axis of evil takes one last gasp.
"What do I do with this thing again? Oh yeah,
defile
it."
***
Some upkeep. I've added a link to John Delcos' new enterprise, despite the fact that he, like all newspaper-backed blogs and one Dodgers site that will go unnamed, refuses to acknowledge me. You may also notice I've added links to all recent Top 10 lists in the right side bar. This way you can still amuse yourself without drudging through my progressively purple prose and sour attitude posturing. This one in particular, seems appropriate as the Mets marketing machine swings into action while the team forgets how to swing altogether:
Top Ten Potential Mets 2008 Slogans
10. "New York Mets: Best Team on Paper"
9. "Hey, We Fired the Groundskeeper"
8. "We Got Us Some Pitching"
7. "Come to Shea Where Kaz Matsui Got His Start"
6. "The Mets: Our Position Players are Drug-Free"
5. "Come Dance with the Real Stars!"
4. "Wait til you see NEXT season's ticket prices!"
3. "Meaningful Games are Back!"
2. "No Way That'll Happen Again"
1. "F*@?! Hanley Ramirez too!"