It's Reds For Me: Inaugural Post
So... I had
this crazy dream last night
: Rick Peterson (pitching coach of my old team the New York Mets) appeared, touched my shoulder and said:
"Ah, do you like flavored coffee? You know, like Taster's Choice and the like?"
"Pardon me? Um, yeah of course," I stammered.
Rick said, "Look, pal, it's like the hole in the bagel. Do you want to be the hole or the round part?"
Ick, I thought. "Rick, why is your hand on my shoulder?"
Lovingly, Rick said, "Huh?"
Farfalle started to rain from the sky. "I said, why are you touching me?"
"Oh, sorry. Anyway, like I was saying, I think it may be time for a change, time for a change, ..."
Owls, furry and intelligent looking, then proceeded to fly from under his mullet.
Lastings Milledge appeared wearing a Green Monster suit. This is going to get ugly, I gotta wake up, I thought.
So, the next part of my dream involved a hairless monkey, an unsigned emo band, and Christy Turlington wearing nothing but a squeezebox, but I won't bore you with the details. Let's just say it got
increasingly bizarre
. And then suddenly and inexplicably, like a Carlos Beltran bunt attempt, I was left with this image: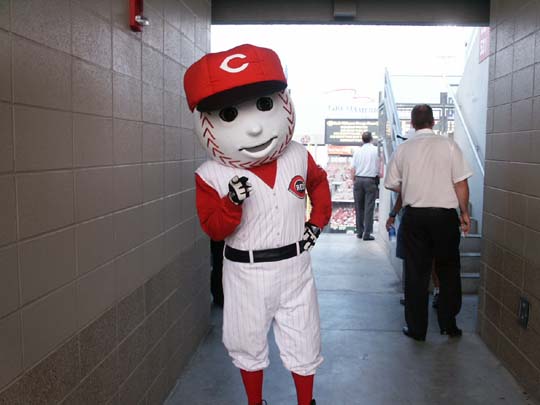 I awoke in a cold sweat. What could it mean? What should I do? I spent the next 10 minutes reflecting deeply about my life, my fandom, and my 25 year history as a Mets fan. The Mets were almost always lovable loosers, but now it seemed like they were America's favorites. And I was a mavarick. It just didn't add up, see?
Then I made a tremendous decision.
Look, fans, the truth is, I guess I never got over the heartbreak of loosing stud pitching prospect Scot Kazmir. I hereby announce that I passed waivers and will be re-assigned to a new team's fanbase. That team...?
The Cincinnati Reds.

I had a lot to do: get up to speed with my new team, study the roster, get to know the players and their stats, pick some new favorite players. I mean, I had been totally immersed in the New York Mets, updating my own blog for almost three years with premium content, even making helpful postings to others' blogs. I even decided I liked Hillary Swank the other day. Who the hell are the Reds rivals, anyway? The only thing I knew is that
they let the fans run the team for a while over there.
That, and I had a lot of content to crank out. Enjoy!
ItsRedsforme Interview:
I was excited to find out that my new team's personel are really approachable. I dialed up Red's manager, Jimmy, uh Narron, and
he gave me an interview
right on the spot. Here's some of the best parts:
Itsredsforme: How was camp this year and what did you like about it?
Narron: I liked from Day 1, that we had a lot of guys show up early, in shape and ready to play and ready to do their work. There were only two or three position guys that weren't here before the reporting date.
IRFM: Really, that's it? Pretty inspiring...NOT! Oh well, has the increased philosophy that stresses pitching and defense changed anything?
Narron: Not for me, it hasn't. We just haven't had the players here that do that. We had pretty much been a one-dimensional team. Over the last year, Brandon Phillips came in and was a very athletic guy. Josh Hamilton came in the winter and we already had Ryan Freel -- some very athletic guys. You have to have a combination of both. You can't be an all small-ball team or an all slug-it-out team. We're trying to do that.
IRFM: Geez, I've really never heard of any of those guys. So you feel like this team is more balanced than the one you had going into last year?
Narron: I really feel like we're moving in the right direction that way, yeah.
IRFM: You talked a lot about Aug. 24 last year when the club began fading and everything that went wrong after that. How much do you think the guys that returned have learned from last year?
Narron: I hope they learned a great deal. The big thing at that time is we lost [closer] Eddie Guardado. I think our team, psychologically, took a hit from that. We probably had some guys mentally and physically tired going into September. One thing about August last year is we had that one off-day in the middle of the month. It was a grinding month and it took a lot out of us. Hopefully, everybody learned from that. I'm going to try and make sure I keep guys rested, not only physically but mentally. Before the season last year, I was hoping to go into September with some meaningful games to play and we did.
IRFM: Oooh, meaningful games. I've heard that one before. Did knowing how close you guys came to getting to the playoffs linger with you personally over the winter?
Narron: Yeah, that's something we've talked about all along. Guys aren't going to realize or understand how important one pitch is until you end up going into late September with one game meaning something. You figure out you were one or two games from making the postseason and you look back at not only games, but a pitch here or a pitch there if you played it differently, or how you could have been locked in differently. As a pitcher, hitter or a fielder, you realize how important one pitch is over the course of a season.
IRFM: In your mind, what are the team's strengths that could make you a contender?
Narron: Bronson Arroyo and Aaron Harang at the top of the rotation. Our bullpen with some young guys and some veteran guys. There's a good mix there. A big key will be Dustin Hermanson, if he can close games for us. Kyle Lohse is another key in the middle of the rotation. Brandon Phillips, Alex Gonzalez and Ryan Freel in the middle of the field, defensively. Our defense automatically is better with those three guys. And Josh Hamilton has shown he can play center field. Every outfielder we've got has been a center fielder, so we have a lot of depth in center field.
IRFM: You really believe that? That's so... cute. You're kidding right? I've never heard of a single one of those guys. Well, hmm what did they tell me to ask. Oh right. This year, as with last year, it seems that your division is wide open. Does that give you more encouragement that the playoffs are there for the taking?
Narron: I think everybody here that was here a year ago knows that we can play with anybody. We're not going to be intimidated by anyone in our division. Our division, I think, is the most balanced in baseball. I know everybody is picking us fifth or sixth and I saw this (picks up a copy of the Sports Illustrated baseball preview off his desk). I think it's an outstanding division. Every game is usually close. We didn't miss the postseason by the way we played in our division. We missed it because of the way we played against the National League West in August and September.
IRFM: Do you use bad predictions or low expectations as a motivator? Do you like the underdog role?
Narron: I would rather have a $300 million payroll and be picked No. 1, personally (laughing). I could care less how they pick us. They're being objective and picking us on what they see. There's a lot to this game over 162 days. There are a lot of intangibles involved. I know we'll do everything we can do to get 25 guys to work at it, play the game the right way and play it hard. If we can't get 25, we'll get 24. If we can't get 24, we'll get 23.
IRFM: I can see you like talking about numbers a lot. Was having 140 different lineups last season out of necessity because of changes, injuries and having interchangeable or versatile players?
Narron: It was definitely out of necessity. It wasn't that I was trying to do anything special, believe me. I would love to have the same eight guys in there and just write down a different pitcher every night. Players like to know their roles and how they're going to be used. I think they do best when they don't have to worry about being in the lineup or how they're going to be used.
IRFM: Do you feel like the 3-4-5 spots of the rotation will pick you up?
Narron: For us to be a contending team, they have to pick us up. It's as simple as that.
IRFM: If they don't, does Homer Simpson get called up?
Narron: Homer Bailey?
IRFM: Right, Homer Bailey.
Narron: He has to pitch better than he did this spring. We all want Homer to come here and be a Cy Young Award winner. This spring, he pitched about three times. He's going to go to the Minor Leagues and hopefully, he can make some adjustments, get better and be here. If it's May 1, that would be great. If it's May 1, 2008 or '09, that would be great. We want the best for Homer Bailey.
IRFM: How is Pete Rose looking this spri--Sorry, I have to take this call. Thanks for the time.
------------------------------------------------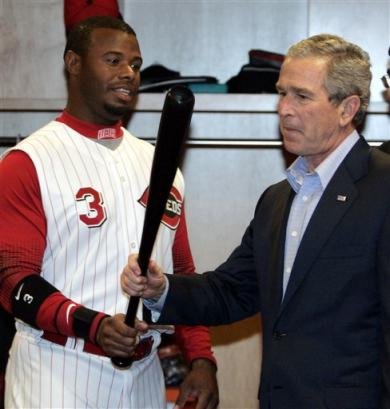 Junior collapsed in a heap of bones after letting Pres. Bush handle his stick
Top Ten Ken Griffey Jr. Injuries
10. Fell over a chalk line9. Got the Froot Loops roof of mouth scratchies8. Two words: Buggy eye7. Rake-related gardening nose injury6. Spinal rhinoceritis5. Hometown discount shingles4. The heebie-jeebies3. While on holiday in the Bahamas with his family he broke his wrist. He said he was wrestling with his daughter and two younger sons when the oldest jumped in and knocked him off balance, he landed awkwardly on his left hand. 2. Real bad case of Coutlangus 1.
Because Wandy Rodriguez sucks.
-------------------------------------------
--------------------------------------
Hanging with...Marge Schott!
IRFM: Hi, Ms. Schott, thanks so much for agreeing to meet with me on short notice. What are you up to these days? Are you out on bail?
MS: What's with the earing in your ear, you some kind of fruit?
IRFM: No, I just like to express myself. Tell me, what are your feelings about MLB commissioner Bud Selig? He's been a controversial figure lately as he has insisted on taking out of market access to televised games away from baseball's most avid fans. You were a fan-friendly and controversial owner in your time, so I thought you might have some thoughts.
MS: Well, Bud Selig was initially good for baseball, but he went too far.
IRFM: That reminds me, Ms. Schott, how's the Hitler thing going for you?
MS: You know, I'm getting really steamed about that Ken Griffey guy, I'm paying that guy 4 million dollars to sit on his butt!
IRFM: Well I may be mistaken, but I think he's back on the field. And he makes a bit more than that. Um, that's all the time we have today. Thanks.
MS: Seig Heil!
------------------------------------
Well that's all for today! It's opening day! Woot!
LET'S GO REDS!