Metsfans, Try Not to Use the Hot Stove To Burn Your Eyes Out
Gather round the The Mets Hotstove, times are tough!
Watching the Sawx meltdown in the 9th yesterday with their season on the line, although
the incompetents at TBS
couldn't get the in-screen score graphic right (the score at one point had it 7-7, then scrolled around until it finally rested at the correct score--TBS knows drama), was still educational.
Papelbon blew it right out his ass. Right there in Fenway, in front of plenty of pink-faced partisans. There are quite a few Mets fans that wish the Mets were run more like the Red Sox. I think I could be put in that category. But even the best organizations loose sometimes. Which makes the mountain the Mets have to climb in the next few years/decades seem that much more imposing. Cause they are terrible,
Oakland Raiders terrible
. Short sentences; the only way back into the Metsblogosphere.
Red Sawx WAR pie
Mets WAR pie
In case you haven't heard, the Mets had a disastrous off-season last year. Since the brass won't admit to doing anything wrong during the injury plagued season, let's all agree that management's first boner of the 2009 season occurred before the first ticket gauged fanny was in the seats at Tax Payer's Park. The franchise's mistakes in something of a rank order, are probably the following:
1. Retaining Omar Minaya as GM
2. Not firing Jerry Manuel
3. Signing Oliver Perez
4. Signing "K-Rod"
5. Trading for J.J. Putz
6. Accepting the status quo in terms of their medical organization
Note that 5 of the 6 are still in full effect. So with that in mind, we poor Mets fans can be forgiven if we hesitate to get excited about this year's hot stove, seeing as the idiots are still running the asylum.
I now wade into the coming debacle that will be known to historians as "Hotstove 2010." To be clear, I am not relying upon pure baseball logic to make my "decisions" about what this sad bunch of clowns should or should not do. In many ways, until regime change comes, we are beyond sound baseball decisions, so to pretend that this sort of logic will enter in to the picture is delusional. So come with me, and adjust your reality in order to weigh the attractiveness of potential Mets' for next season
based on your gut
, like Willie would. The time to seriously revamp this team was after the last two catastrophes. Now, we are stuck waiting to see which of the commodities under the Mets control can still play after recovery from surgery. In addition, we are stuck with the knowledge, the near certainty that this management team has no idea what they are doing. If I'm going to hold my nose and root for this bunch of losers, well, I am going to make some demands. In the meantime, lets get the hate-train started. I do not want:
Matt Holliday
DoNotWant
Is it fair to rate Holliday based on his Metsian blunder in the pivotal game against the Dodgers? No, not really. But postseason exploits SEEM to have an influence on off season contract negotiations (see Beltran, Carlos)--they weigh heavy in check-signers' memories. But I don't want Holiday for reasons that extend beyond his defensive prowess. He is a radical religious nutcase. Sure, everyone points to the sky to give god his rightful glory over a rbi single these days.
(Jesus didn't come to judge
, Matt, but even he is pissed you couldn't catch a routine flyball.) You can pick a reason to be queasy about signing Holliday to any length of contract: he's old, his stats are an artifact of spending the majority of his career in Coors' mile high environment (the splits seem to support this), the outrageous muscles he packed on raising roid rumors, etc. I just don't like him. I worry about the impact he'd have on the smile of the Mets' gritty franchise player, Jeff Francouer.
Dan Uggla
DNW
The Mets want to try to avoid acquiring players that would make a significant contribution to their on-field humiliation. Over time, if the Mets some getting guys that tend to be boneheads (Pagan), suck out loud (Heilman), etc. the theory goes, perhaps their play will improve. Now that's probably not true either, but I hate all ex-Marlins. Pass on this clown.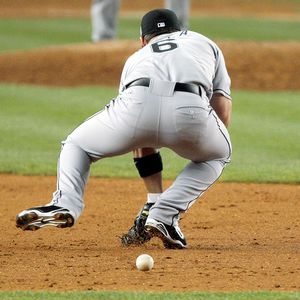 actual closeup of Uggla's hands
To be continued...
The Sky is Falling
What else could go wrong? SNY may have to pay Keith Hernandez a whole lot more cash to associate himself with these losers. SNY by letting him get away will be making a big mistake, since this would severely erode the only decent programing they can offer.
Mex
doesn't need baseball:
"I didn't watch baseball for five years, didn't watch until the Sosa-McGwire thing," he said. "Then I started watching a little bit. Not an All-Star Game, a World Series, nothing. And I did not miss it. And I honestly feel when I retire doing this, whenever that is, I will not watch a baseball game again."
Labels: Flushing failure