The Show Must Go...on
Beautiful. I've spelled Showenshitbag for the last time. Scott Schoeneweis flat out sucked, and he sucked in such a way that if not for Aaron Heilman, the torched up mob would be chasing his ass into a castle. Not that he wasn't a nice guy and I didn't feel for him occasionally, particularly when he handled lefties, but he sucked in a way that would inspire poets. History will remember Scott Schoeneweis for sucking.
It certainly inspired me to dream a little dream. In fact,
I once commented
:
It's all i can do not to dream of the day we're free of Errant, Pedreadful, and Shownblow. We have the science. We know they can't get the job done.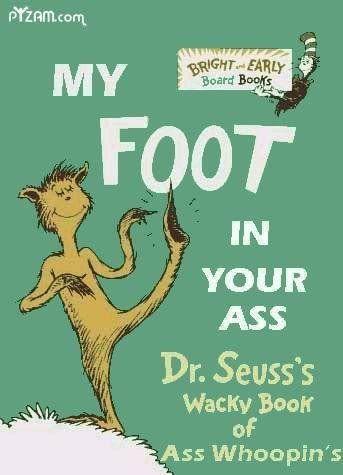 Show sucked on a plane, he sucked on a train, he sucked in the rain, he sucked in pain, he sucked with one ball, he sucked at baseball, he sucked in a riot, he sucked on a diet, he sucked and got booed, he sucked through and through.
So I'm willing to risk my hard-won reputation for editorial balance, just one post after ripping Omar a new turkey hole,to turn around and applaud the little bastard for giving his pen an enema. In case you were wondering how magnanimous it can get around here. So rarely do I get exactly what I want with this team (i.e. competent forward looking management) I don't know how to react to Omar's house cleaning. There is one thing yet undone.
Pedro please make this easy on yourself and turn yourself in!
It would be nice if he just left under his own power, but the barn brooming isn't done as long as
Pedreadful Felice-Navidad-For-Opposing-Hitters
ever dons the Orange and Blue again. He. Has. Got. To. Go. As Morris Day would say, "U
aint gotta go home
, but u
gotta
get the helloutofhere..."
Actually, I think Morrissey captures the moment well.
Good times for a change
See the luck I've had
Could make a good man turn bad
So please, please, please
Let me, let me, let me
Let me get what I want
This time
Haven't had a dream in a long time
See the life I've had
Could make a good man bad
So for once in my life
Let me get what I want
Lord knows it would be the first time
Lord knows it would be the first time
This video could be seen as a tribute to those who suffered Mets past two seasons; it certainly makes me feel similarly. How many times have we Met fans been the guy still in the elevator at the end?
Labels: i apoligize for this post