Sweet Dreams after a Long Night, Manny Being Met-y?
Saturday night's 1000 inning game was draining. Afterwards, I felt like Tony LaRasshat at a stop light in spring training--drained and a little hungover.
Watching that ball get launched into the night complements of the MLB's most arrogant player, the loss suddenly felt so obvious. With the Lite Knight starting, maybe it was a game the Mets had no business winning. But after Tatis' typical late inning heroics, it really seemed like the Mets would win. The team obviously thought so, goofing around in the dugout spending more energy inventing funny hats than pushing a godforsaken run across the godforsaken plate. Tossing and turning all night, most likely as a result of eating too much garlic with my beer, I couldn't help wondering if J-Man could have pitched around Poohole last night? Rather than let him launch one into Citifield? Hellman seemed to be obviously tiring/getting ready for his inevitable role as goat.
The chUmpires again played a role in last night's loss. The horribly blown calls against the Mets really are starting to add up. But there are many high profile shit calls in general, poor judgment and puzzling decision making. Rather than investigate the use of instant replay, something baseball hasn't needed for generations and generations, why not investigate why the umpires are suddenly so awful? Maybe fire a few? Because Bud Selig is a useless sack of shit, is my theory.

Then having to wake up to "news" that
Manny Ramirez
, that object of many an Omar wet dream,
could be headed to the Philmes
if the baseball gods are feeling particularly nasty. If that happened, the ludicrous Phillies could become the National League Red Sox, what with Manny and Howard batting in their order. That could very well suck the big one.
I prefer the idea that the Sawx will keep him, or somehow send him to the Mets for pennies.
Of course, I loved today's game. Johan Santana had an "S" on his chest, the offense raked, and the defense was outstanding. Unfortunately the
Br*ves remain devoted to our misery
.
Trying to put the Phillies in my computer's rear view mirror
I do not make the habit of sending my readers elsewhere via link dumping, not because I am taking a moral stand against the time-tested lazy blogging skill of space filling, but because studies show that introducing flat screen hi-def tv's to a population happy enough with AM radio is not good business.
However, a few recent posts from around town merit Met fan attention.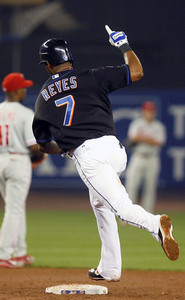 Item one:


Now that they're yesterday's news, the Phillies are becoming the whiny little bitches we always knew they could be. I have become a near-icon for my "
I don't believe in Phillies
" mantra
copped from John Lennon
which, up until a certain last September, served me well. The only thing remotely charming about the perennial NL East also-rans, is that their hateful fans turn defeatist and nihilist when the club has a taste of success. I have to admit, that's kind of cute.
But not cute? Not cute is the Phil's decrepit Manager C-Man criticizing Professor Jose's demeanor as he rounded the bases to collect his reward for sinking the Philme's into First Loser position, not when, as
CSTB explains
, Charlie has the behavior of
his own celebrated shortstop
with first name beginning with J to worry about. You let us handle the showboating narrative over here in Metsland, pal. As far as I'm concerned, the Mets and their fans have paid the karmic price for the hotdogging, handshaking, and dancing of 2007, and it's old news.
Item two:
Skewering Phil Rodgers' midseason reviews, particularly Rodgers' choice of J-Man as a manager of the year candidate,
FJM invokes the scientific theory of "hard-core retroactive association"
to explain the premature isolation of the
Manuel Factor
.
Of course, FJM crew are not full-time Mets enthusiasts so they can afford to be unbiased. They don't need to find someone to believe in. But to pretend that Jerry hasn't been the recipient of mucho luck is to have the web-verbial Koolaid stain all over our mouth area. Let's just reserve judgment for now so when our hearts break later, we can still act all tough. The most we can say right now, following FJM, is that JMan "happened" to be in charge when the Mets went on a tear.
***
Onward and forward and upward and all that stuff. If he's out there, hopefully Cver can give us the big scoop on his trip to Shea. At the end of the week, I'm off to Houston for the series with the Astroturfs and hilarity is sure to ensue.