This Just In: Santana Not Yet Dealt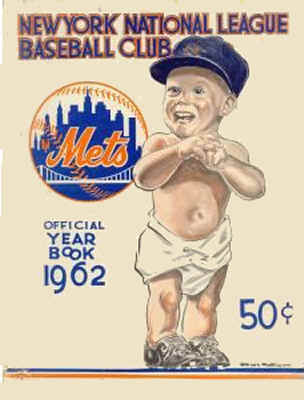 Is that Rusty Staub?
The Mets' Baby New Year...Someone needs a diaper changing!
Other than entering Year Two of the Santana Sweepstakes, there is little going on. The Wilpons are taking money baths. Perhaps Omar is playing Jenga somewhere. And I suppose Derek Jeter is working on his taxes. The recent spate of
columnists
selecting the Mets as their off-season whipping boys only serves to underline both how exaggerated expectations are in New York and how Omar probably deserves the criticism.
Odds and ends...
***
Although it was a treat to spend part of New Year's eve watching one tool, Carson Daly, try to deflect trash from the person of another tool--those tools must stick together--most Metsfans were probably just thinking glad we didn't sign him; A-Roid's oily demeanor is kind of off-putting. Not as off-putting as watching poor Dick Clark try to overcome his own face to notch one more idiotic New Year's special on his belt. I feel bad for the guy, but maybe Dick Clark is the Pete Rose or Nolan Ryan of television. He just hangs around going for records.
***
"
Yes, yes, I suck. Next question."
Metsbloggers all over the place have been scratching their heads wondering over the status of a possible deal for Johan Santana. One thing not considered...
Minneapolis, Minnesota weather:
7°F
ClearWind: N at 0 mph
Humidity: 67%
Wed8°F -1°F
Thu25°F 15°F
Fri30°F 20°F
Sat36°F 22°F
Maybe it's too damn cold for the Twinkies to deal.

***
The best rap (sports related) since Lastings' last joint dropped (link swiped from Deadspin).
Labels: pew