Mets Bring Back Art Howe to Lead Team to Playoffs
excerpts from Art Howe's re-introductory press conference this morning:
Howe: Thanks
Jeffey
. Good morning everyone, and thanks for coming out. I want to keep my remarks brief, but I want to explain today's shocking events, and what the
Wilpons
have in mind in bringing me back just three years or so after they let me go.
Quite frankly, team evaluators have come to the conclusion that this team sucks
outloud
. It was time for a change. I have been hired to coach the last four games of the year in my own
indomitable
style.
I want to talk a bit about my qualifications. First of all, someone has to help the players explain their total collapse this season to the media, fans, and to the children. I helped Mike Piazza battle that gay thing so I figure I can do just about anything.
I had a relationship with pitching guru Rick Peterson when he looked even paler and more useless. In these next few days and weeks I will pummel his lifeless corpse until I get some answers. How can he be a guru if his entire pitching staff implodes at precisely the same point? And what in
tarnation
does this have to do with triangles?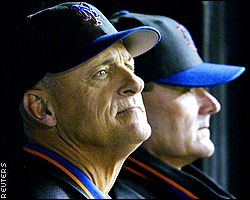 And most of all, I've been asked to bring my fiery demeanor to bear on this club's motivation levels. Yes,
I'm bringing battling back
.
Thanks to my earlier experiences in Flushing, I know how to lose, lose big, and lose with grace. I'm the man for the job. If my players will buy into my system, I am confident that I can have the
Mets
back in contention by 2010. Now, repeat after me: "Howe just didn't have the personnel."