Show us your wits: Roundtabling the Mets Pt II
I managed to convince some of the interweb's sharpest wits to virtually sit down for a roundtable discussion just after the All-Star break. I promised them keychains and SUVs if they would take a stab at some of the most pressing issues in the Mets universe, engage in a bit of reflection on the first half, and expertly opine on what we can expect from the 2008 Mets. The participants:
Jaap Stijl
's
Archie Bunker's Army
takes no prisoners when it comes to the Mets, in fact he's quite handy with a shiv.
Gerard
of
Can't Stop the Bleeding
produces what I consider to be the ESPN of sports web sites, but then people tell me I'm a little off. Mighty
Dan Lerner
can be found bending words to his will at the tremendous
Hotfoot blog
.
John
at
Metstradamus
frequently writes the songs the whole world sings when he isn't fighting international crime. Me? I didn't even tell Harvard Law School that I was black on my application. If you don't read Jaap, Gerard, Dan and John's witty contributions each and every day, don't complain to me that your life is meaningless. So get in your Prius and coast over to check them out. But first, stay a while and read Part II (Part I can be seen here) to see what transpired when we stopped being polite, and started pretended to be in a room together to discuss timely topics of interest.
Part II

Q: In startling contrast to their employees' often dull and listless play on the field, the brass has engaged in some classic Met front office shenanigans. What surprise move or bumbling do you predict will come next? The ritual sacrifice of Val Pascucci on a center field alter made from the bones of Rusty Staub to honor Shea Stadium's last night perhaps?
Metstradamus: You're assuming the Wilpons know who Val Pascucci is. I'm waiting for the Vai Sikahema vs. John Rocker fight at Shea the night before they tear it down.
Gerard: Jeff Wilpon's Lovely Wife already came thru big time when the Mets courted Kaz Matsui. OK, maybe talent evaluation isn't her strong suit, but she still might be useful as the trade deadline nears.
Itsmetsforme: Here's my advice if Omar wants to pull off a real corker and stand shoulder to shoulder with the greats, the Al Harazin's, the Steve Phillips', the Jim Duquettes. It seems to me that the Mets may face a "ticklish" situation in their outfield as J-Man might say. It might depend on whether the final Church bell has rung or not. A lot of people, even some that are routinely paid for their opinions, have suggested the Mets sign Barry Bonds before the criminal justice system closes that door. I say that doesn't go nearly far enough. They oughta reunite Barry Bonds and Bobby Bonilla in the Mets outfield. Third time's the charm. Heck the Mets still got length on Bonilla's contract (2035), and short of a good bleach-spraying routine, it would be just the thing to liven things up a bit in the outfield. Bonds, Bonilla, these guys know what it means to compete for the NL East title. And the move would continue to pay off for next seasons' ticket sales--there just has to be a way to work "I'll show you The Bronx" into a new team song. Moreover, this may be the only way to convince Andy Van Slyke to sign with the Mets. Plus I really like using the word barcalounger in my posts. Barcalounger. See? Try it yourself.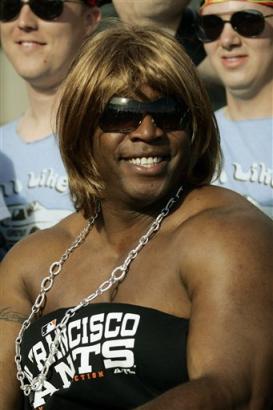 The answers to the Mets outfield woes?

Q: Ok this question is a bit more personal. I'm kind of curious as to what inspired you each to first start blogging, how you manage to come up with so much material on a daily basis, those kind of things. But that doesn't sound nearly sarcastic or ironic enough for today's knowing audiences, so as a way of getting at that question, I will ask, what blogging idea have you introduced that really went over like a lead balloon? Something you thought was hilarious or novel, but no one seemed to get it. Or am I talking to myself here?
Gerard: For me, blogging's an outgrowth of the kind of thing I did back in the 'zine days, only there's fewer leftover copies to bring to recycling.
As anyone who reads CSTB on a regular basis can attest, I've not introduced any new ideas. Ever.
Dan: Before I was blogging about the Mets, I wasn't getting nearly as much hatemail as I used to. Then Anthony over at Hotfoot had a writer shortage, so it seemed like a perfect fit. After all of it, I still stand by my belief that the draft needs more entertainment value.
Itsmetsforme: My great disappointment is that I will die without ever seeing my Bill Singer Interview series take off. I thought having the disgraced former Mets front office talent evaluator ask the same insulting questions and then blaming his low-calorie diet was a comedy goldmine. And so did my monkey. We thought wrong. I couldn't even get a spam comment to stick to that. I guess having him interview Rickey Henderson over and over again stretched the material a bit thin. Hopefully, some future scholars will place it in its rightful context…
Q: Let's get right to it, the money shot. What are your predictions for the second half? What role do you expect Madonna to play?
Metstradamus: Unfortunately, the Mets don't rate that high to have Madonna break up their marriages. They'll have to settle for Taylor Dayne.
Gerard: There will be an upcoming Mushnick column about the Mets keeping all the interest from playoff ticket deposits rather than making a charitable donation to the Beard Liberation Front. At the risk of pulling a Pat Ewing, I can guarantee the first half of that prediction.
Keep in mind, there will be a letter from the Mets demanding said playoff ransom even if the team is 8 games out on September 1.
Given that I'd never have forecast the club's turnaround since the ascent of Jerry Manuel, I'm loathe to make any real baseball predictions. But I'm pretty sure that when and if David Wright comes out of the closet and/or converts to satanism, fan base & media alike will give him far less grief than Beltran gets on the odd 0-4 night.
Will David Wright follow in Mike Piazza's footsteps and convert to Satanism?

itsmetsforme: My prediction? [Looks into the camera.] Pain.
Q: Ok, now let's look even farther ahead. Basing your response on what you have seen so far, ancient legend, or necromancy, who should be the manager of this team next year? Who will be?
Metstradamus: Pedro Cerrano. Hats for bats.
Gerard: I think a finish of 5 games above .500 or better buys Manuel at least one more year.
A 2nd collapse could well portend the hiring of Gary Carter and Wally Backman as co-managers. That would mean a 2nd half collapse of the Long Island Ducks, however.
Dan: I agree, it seems if things keep going the way they do, Manuel lives through at least the first chunk of next season. I wouldn't be terrible surprised if a few of the various 80s Mets in the system get moved up though, so they're ready as possible replacements. Maybe we can lure back Roger McDowell, get him HoJo, Teuffell all running the team together. GM Keith Hernandez. Maybe Carter as the PR guy.
If Dan had his way, these guys would be running more than a little yellow house for a clown.

That about raps it up. I think it is safe to say we have covered every respectable topic in the Mets universe. Thanks guys.
Labels: there goes the neighborhood