D'oh P serves up a San Francisco Treat
Doh'P and ESPN do in Mets before they even start to flail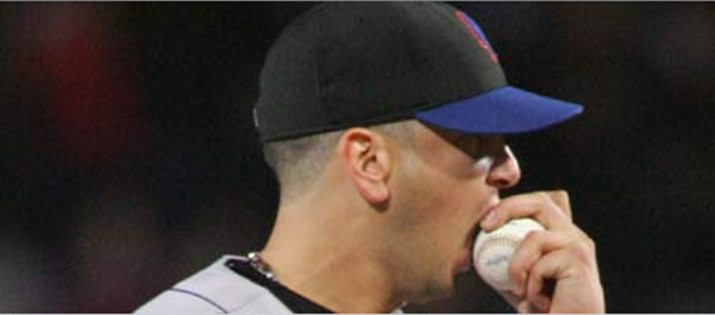 D'Oh P sucked it all right.
Oliver Perez gave a vintage performance--vintage Tom Gl***ne--tonight in a disturbing loss to the Giants: he contributed a fabulous 1/3 of an inning giving up a mere 6 runs to put the game immediately out of reach. And don't worry about Perez. Lil' Ollie was happy to skip off the field when Uncle Willie came out to hook him--there's video games and pop in the clubhouse! At least Victor Zambrano was upset that he sucked. I could spend more time pissing on Oliver but according to the NY Times this dope doesn't necessarily understand the kind of money he's pissing away:
Over his past three starts, Pérez has given up 15 earned runs in 11 1/3 innings as his earned run average has swelled to 5.70 from 4.25...The pitching coach Rick Peterson can work with him on staying focused and maintaining his arm slot, but nothing can change Pérez's contract situation. Manager Willie Randolph has said several times that Pérez is not the type to dwell on his pending free agency and, by association, the millions of dollars he could be in line to earn.
He'd be nice to keep around, if the Mets didn't have to pay him. So a night after they looked so sweet, the BAD METS are back, all the awfulfense, all the Doh'P implosions, all the Heilman inefficiencies that you have grown to love or at least expect.
The fattest Molina and the cinder block hands of Ray Durham keyed the brutal attack of the fearsome Giants of San Fransisco land. Or maybe they didn't. The game was moot by the second inning.
Perhaps to allow Jon Miller and Joe Morgan to sleep in, ESPN forced the Sunday game into a late start, thus ensuring that the Mets, due in San Fran the next day, would have to fight through a jet lag fog to compete on Monday night. Oh, the odds they faced. They would have to overcome Mother Nature for pete's sake!

But for an alternative view, let's hear from metsfanmurph, a commenter on Metsblog:
Now I am going to have to hear Gary Cohen bitch and moan about the travel…… I don't want to hear how tough it is to fly first class and get 10 hours of sleep to play a baseball game.
I have worked midnight to 8 and then had to be back into work at noon, so I don't want to hear about how the Mets "dragged into San Francisco."
I hear ya brother.
So we have to look forward to tonight's Zito-Pedro battle, where some $179 million of waste, give or take $13 mil. Let's be honest, at $53/4 years is too much to pay a clubhouse jester, even a very good one.
Labels: drat