Bora$: Financial Learnings of America for Make Benefit Glorious National Past-time
Jagshemash! Here in U.S. and A, I'm make lotsa money, and evertime I screw another
team over and further degrade their national pasttime I make add a baseball to my collection.
You make click to see
my list of clients
yes? includes many Flushing favorites such as scott from Kashmir and a nice old man names Bernie Williams like that funny movie about weekends.
So far, this season I'm make J.D. Drew do suicide for his career. And soon I will be bending over one selected team General for contract make Matsuzaka pitch in the states, like we do with goats in my country. Maybe your team, yes? You like?
Many people, they dont like Bora$, because they say i use freedom of agency to ruin sports in US and A. But I innocent of these accusings!
Furthermores, accusings are part of campaign against me by evil nitwits Uzbekistan who do not love capitalisings democracy and do not love US and A.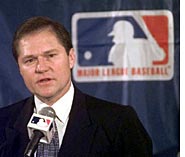 I must now return to japanese Embassy where my client need me. Thank you. I like sex. Bye.